Solutions Flower Courrier and e-Envelope
The turnkey and modular solution for the management of incoming, outgoing and internal mail.

Facilitate the circulation and processing of mail and documents within the company.

Each sector can create its own simple and efficient business process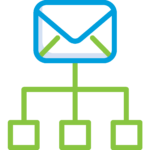 Turnkey solution for the management of incoming, outgoing and internal information flows.  It is a must in the digitization of mail and your business processes, and is an essential module of the Electronic Inbound Mail Management (ECM) to simply set up the mail delivery rules adapted to the organization.
It becomes possible to easily reassign undelivered mail, to reply to a mail directly from the application, to follow a mail throughout its processing.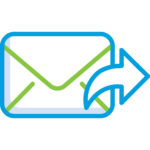 This is the module that makes it possible to simply model all circulating flows, internal requests, documents to be validated or signed, HR documents (expense reports, sick leave, etc.) within the company.
The physical circulation of documents is suppressed, thus facilitating collaboration, exchange, sharing and cooperation between services and guaranteeing the security of documents, the confidentiality of their contents and their processing.
It becomes possible to design business processes and access management in just a few clicks, thus making the business independent in the design and evolution of its processes.
Automated routing of incoming mail delivery to ensure efficient processing.
Distribution carried out according to the type of mail in the various bays of your company's departments.
Mail service defined as the default service when no automatic routing is defined, ensuring efficient processing of all incoming mail.
Possibility at any time to reassign processing to another service, in the event of a routing error or an error in the identification of upstream incoming mail.
Guaranteed processing of all mail without any intervention by the technical service to finalize its treatment.
Assignment of mail directly to the appropriate department to reduce identification and pick-up time and optimize the processing chain.
Management of mail not identified by the mail service in charge of its identification and assignment.
Simple parameterization, rapid initialization of distribution rules, possible enrichment throughout the use of the solution.
Configuration of the sending of email notifications to occasional users of the platform (example: all external actors).
Discover project examples
Improving the processing of continuing vocational training requests for skill operators with an ECM platform.
Migration of all ECM platforms to a single repository in the cloud thanks to an ETL.